We all love fashion, isn't it! But being fashionable doesn't always mean that you wear expensive clothes or accessories. You can wear trendy and simple clothes and yet look fashionable. Fashion shows today have crossed the glamorous ramps and carpets of the popular dress designers have reached local brands, tiny streets and corners. In fact, interestingly many corporate and colleges these days are being seen organizing fashion shows on their annual fests and programs. Local brands organize shows for popularizing their brands and clothes.
To be honest, the very word "fashion" attracts everyone. To put it in simple words, it is basically the style of wearing clothes, accessories and ornaments according to the ruling trends or one's own individual preferences. Fashion is the art of transforming a simple attire into one that of elegance. For some, it is also about wearing designer, differently styled and appealing clothes, drapes or fancy robes. Fashion has a major role to play in establishing a trend among people who follow it. It is not only about wearing stylish clothes or accessories, etc., it is also to first understand the occasion, culture and style of a person or place and then design the attire accordingly.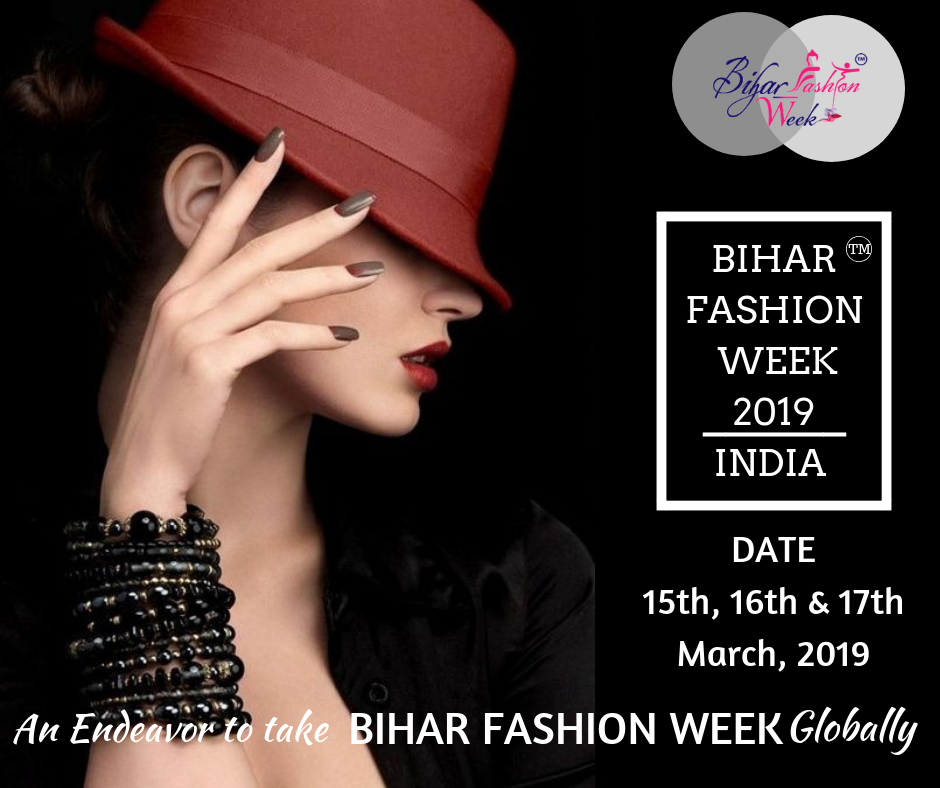 The latest edition of Bihar Fashion Week organizes on this week with a fresh brand, new collaborations, textile innovations and disruptive design ideas and many more things. Bihar Fashion Week is being organized by Sivanta Entertainment and Media Limited . After a huge success of PATNA FASHION WEEK 2018 Edition 3rd, in August ,2018 at Gyan Bhawan Patna. They are announcing new upcoming fashion event "BIHAR FASHION WEEK" 2019 ON 15th, 16th & 17th March. This time they are representing fashion in a different way, with a theme of "BETI BACHAO, BETI PADHAO". Promoting Girl's Education with our upcoming fashion week and endeavoring the culture & tradition of Bihar to the world of fashion.
ANUKEERTHY VAS
Rohit Khandelwal
This will include renowned designers and models from across the country. This information was given by the Institute's MD Chandan Shrivastav and Aryan Sinha at the press conference on Friday. He said that this two-day event will include TV celebrities, including Mr. World Rohit Khandelwal, Replica Vas, Bollywood Flora Saini and Abhinav Anand , Big Boss Fame Arshi Khan, Urvashi Vani and  ANUKEERTHY VAS FEMINA MISS INDIA 2018 as a Celebrity Showstopper in all new Fashion event BIHAR FASHION WEEK. Sheldron Rodriguez said that Spring Summer Collection will also be launched at Bihar Fashion week.  Chitranjan Kumar Suman, the organization's show management, said that in the Fashion Week, targets related to Bihari civilization include Khadi, Silk, Madhubani painting and Ari's fashion is to make people happy. Simultaneously, some designers will be on the ramp on female empowerment "BETI BACHO, BETI PADHO" themes. On this occasion Ashutosh Singh along with team coordinator Sarika, Arju, Shubham, Sonu, Amar were present.