25th November 2018, one more feather added to enrich the tourism of Rajgir, consequently Bihar. Nitish Kumar unveiled a 70-feet tall statue of Lord Buddha in Rajgir, which is considered the second tallest statue of Lord Buddha in India. The first one is in Diskit Monastery, Statue of Jampa in Ladakh, 105-feet tall.
Bihar's Chief Minister, Nitish Kumar inaugurated this statue in presence of Mahabodhi's temple chief monk BhanteChalinda amid the chanting of hymns. Later on this day only Nitish Kumar also inaugurated three days long, Rajgir Mahotsav, ending today 27th November.
The statue has been installed above 16-meter radius substructure in the middle of GhoraKatoraJheel. This jheel already is a famous picnic spot, now after this statue more foot-fall and foreign tourists are expected. This has been made from 45,000 cubic foot pink sandstone brought from Chunar in Uttar Pradesh. The cost of making this gigantic statue is around Rs. 13-crores. Labors and engineers took a total of 547 days for building this statue.
Here Nitish Kumar said – "GhoraKatoralake is a historic place, people already come here for a picnic, now along with that they can offer prayers to Lord Buddha. There is also plan to develop a park here to enhance tourism. Our plan is to promote this place as eco-friendly tourist spot, no petrol or diesel vehicle will be allowed here. People can come here on foot, electronic driven vehicles, bicycles, tongas etc.".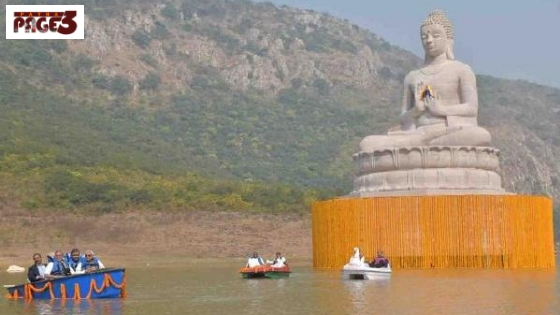 This lake is named GhoraKatora that enstates "bowl of the horse", mythology states that this is the same place where Jarasandha had his stable. Jarasandh is a popular mythological character of Mahabharata.
According to the Hindu epic Mahabharata, Jarasandha was the king of Magadha. He was a descendant of King Brihadratha, the founder of the Barhadratha dynasty of Magadha.
Altogether, this statue is an added feather in the tourism of Rajgir, Bihar. We appreciate these steps taken by our government that promotes tourism of Bihar and adds a lot of positivity.
I'm an avid reader, a foodie, and a movie buff; who is passionate about the positivity around us. I love to dream and convert those dreams into words. At one moment I'm inside a shell and the very next moment I'm the ferocious one. Dynamism is my forte.
Apart from being a dreamer, I'm also a woman with a beating heart and a curious mind questioning traditional social norms. I'm a rebel at one moment and just opposite at the very next moment. My fuel is the smile of my son, the happiness of my family, and lots of coffee.
I'm also not ashamed of spending money on buying books and to fill my (always empty) stomach.