The much awaited and celebrated Patna Literature Festival began on 1st February 2019, and as expected it was a great hit. The festival concluded on a happy note with the release of two books on Sunday 3rd February 2019. Department of Art, Culture and Youth, Government of Bihar and Navras School of Performing Arts organized the three-day long festival. Eminent writers from all over the country joined the festival, and to add flavor Nizami Brothers performance made the evening of the opening day a melodious one with their soulful Qawwali. The list of invitees was remarkably diverse as writers of different languages be it Hindi, Urdu, English or Angika and Vajjika enlightened the festival with their presence.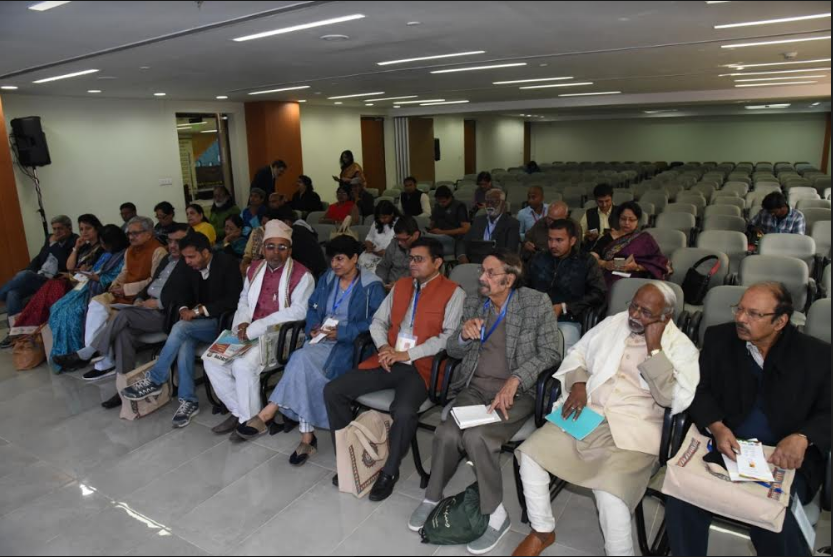 HIGHLIGHTS OF DAY 1 –  (1ST FEBRUARY 2019)
The session started by paying homage to prominent literary figures who left us in recent past.
Pawan Verma (Writer, ex-diplomat and Janata Dal (United) party spokesperson), paid homage to former Prime Minister Shri Atal Bihari Vajpayee by sharing some personal anecdotes from his meeting with him on different occasions.
Poet Shri Alok Dhanwa paid his homage to famous Poet Kedarnath Singh.
Padamshree Ushakiran Khan reminisced Krishna Sobti by talking about her contributions.
Tripurari Saran paid tribute to V S Naipaul.
While Rama Das paid tribute to Annapurna Devi.
The Session on Adi Sankaracharya- 'History, belief and imagination' – Pawan Verma talked about the greatness of Adi Shankaracharya and how he unified and established the main currents of thought in Hinduism. Pawan Verma further said a person has even a distant idea of Hinduism has heard about Shankaracharya, but they also need to know his journey from birth and further on how he propagated his idea of Hinduism through healthy debates and travel. He further added that through his book on Adi Sankaracharya, he wanted to convey the message that Hinduism is a way of life, and the search is for truth, not god. During his discussion, Verma stressed how Advaita Vedanta philosophy is among the most significant philosophical currents of any time and anywhere. He further debated how formulations by Sankaracharya on the Brahman (consciousness) and the Atman (self) were momentous interventions in Hinduism.
He later said that I wrote about Adi Shankaracharya because people should know about a person who has shaped the philosophy of Hinduism for over 1500 years. To conduct his research he traveled through the places where Adi Shankaracharya was born, studied and established his Matths. Many would consider the philosophy of Adi Shankaracharya blasphemy today.
In another session titled, 'Today's Women in tomorrow's literature and history', Nivedita Shakeel, said "In present time writers are at great risk, especially the women writers. Until 1970, we hardly heard of any prominent contribution of any women in the field of literature, mostly after 1970 the scenario changed and women became more vocal. Further, she added sarcastically "women played a significant role in independence but hardly had any say in the world of literature".
Speaking in the same session Mahua Majhi, said, "in current era, women are not only coming up and writing fearlessly but also are writing on myriad topics and are coming out blunt and clear. Earlier women used to write only on topics confined to drawing room discussions and topics creating almost no controversies now the stereotypes are being broken and things are being discussed in open by women"
Another speaker Sumedha Verma Ojha cited examples from 'Rigveda' that women were contributing in that era too but were mostly ignored.
In a session on 'Short stories and literature in changing times' – Vandana Rag said, "In current era authors are connecting better with the readers by bringing the nostalgia of rural life bringing back in there stories.
Senior play writer Hrishikesh Sulabh asked the readers, "is our concerns being addressed via today's literature and do as a reader we want our concerns being addressed? This must be a criterion for judging literature."
While a panel discussing "mythology and modernity" Padmshree Narendra Kohli, says there is a very thin line of demarcation between mythology and "Pauranik". Padmshree Usha Kiran Khan started with the mythological story of "Bamati" discussing how the author of that book instead of crediting his teacher or father, gave the credit to his wife which is a relatively modern concept. Maitreyi Pushp discussed the story of folk singers who have long been forgotten but whose contributions to the freedom struggle cannot be ignored.
Speaking of the line between modern and mythological, Padmshree Narendra Kohli said that it might be dependent on the way you see things.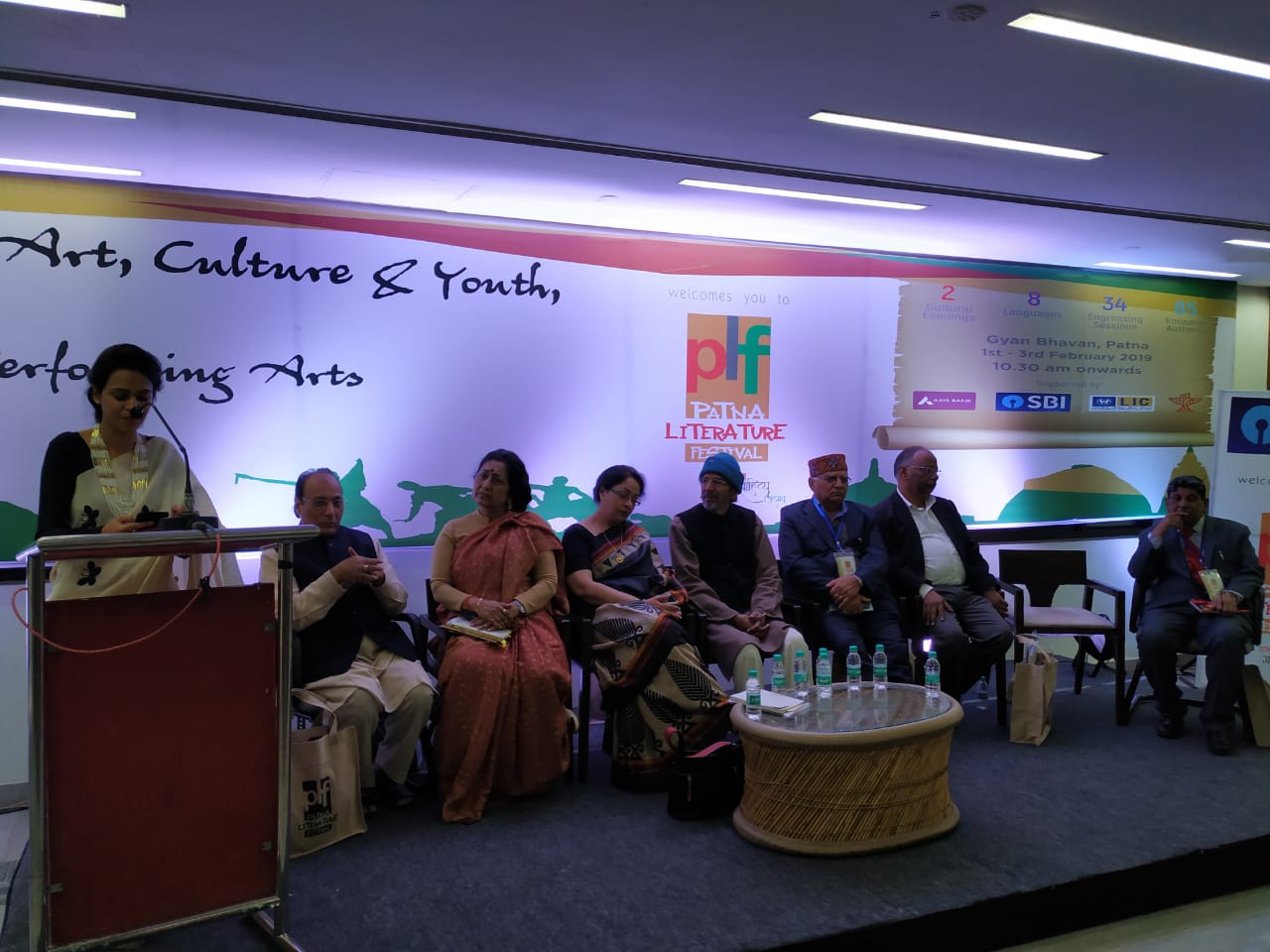 HIGHLIGHTS OF DAY 2 –  (2ND FEBRUARY 2019)
The second day of the Patna Literature Festival was a power-packed affair with literature, art, history, politics, media, and cinema on the agenda. There was tremendous diversity in sessions, speakers, and themes, from the erudite to the effervescent.
The day started by reminiscing the life and works of Loknayak Jaiprakash Narayan. The opening session was "A Revolutionary's Quest" Mrs. Sujata Prasad talked about her forthcoming biography on Loknayak Jaiprakash Narayan. She discussed the life and thoughts of Jaiprakash Narayan and said that he was a big advocate of the right to dissent. She also highlighted the similarity between the philosophies of Mahatma Gandhi and Jaiprakash Narayan.
Speaking during the session – "Gandhi's Ideologies in retrospect" Rajaysabha Deputy Speaker Shri Harivansh, said, "I am a big follower of Mahatma Gandhi and I strongly believe there is no way to live except the ways suggested by Gandhi Ji. There isn't any solution to the problem we are facing today or will face tomorrow accept the ways of Gandhi Ji. He discussed the last book of Stephen Hawking and related his views on world problems with Gandhi's thoughts and expressed his concerns on how the third generation after independence has forgotten the ideology of Gandhi.
During another session discussing 'Eternal Glory and Glamour of Bollywood Star', The panelists discussed the impact of films and stars on fans nowadays and how cinema and stars both have evolved with time.
National award winning, film critic, Mr. Vinod Anupam, said our young generation hardly knows about stars from our generations, differing from Mr. Vinod famous film journalist and critic, Mr. Aseem Chhabra said, old is gold and same is with our stars from older generations and he gave an example of actor Shashi Kapoor, Amitabh Bachan, etc. Maithili Rao, famous film critic said, "the actors from current generation are different, they first establish themselves through popular films then they start working in parallel films but it was different earlier, a lot of actors during that time started their career from the parallel cinema.
Another session discussing 'Hindi in world literature' author Anant Vijay said, "Hindi literature is nowhere at the world stage and we still have not won any Nobel Prize in Hindi literature". Taking the session ahead, eminent author Narendra Kohli said, we should strive to look for the reason why we are trailing behind at the world stage. Citing his opinion, he said, the biggest reason for Hindi literature not attaining world fame is our failure to translate our books in the English language. Giving the example of Japan government, which is already doing it successfully, he emphasized that our government should also take the responsibility of translating the books into English. Suresh Rituparn said, "India is growing and being recognized worldwide, so is Hindi. Writer Sundeep Bhutoria gave credit to Hindi films and yoga for popularizing the Hindi language abroad."
In another session- "Electronic Media: reducing the space and scope of Print Media", panelists discussed the possible threat to print media from electronic media. Speaking during the session senior journalist Manoj Jha said, there is no threat to print media from electronic media and its space is not shrinking. Peoples' love for a newspaper has not diminished yet. He further said newspaper is experimenting with a lot of things and trying to connect more and more with readers. Supporting Mr. Jha's views, Journalist Ms. Namrata Joshi said, actually the circulation of the newspaper has increased by 20% in the recent 5 years. However, social/ digital media is posing a lot of threat both on print and electronic media.
Also, works of famous writer and poet, Shaharayar was discussed during the session 'Shaharyar from progressive to modern'. During the session, his contemporaries remembered him, recalled some of his works, and recited his poems.
As a part of Cultural Event – "Himanshu Bajpai presented Dastangoi which was a new experience for the people of the capital and they enjoyed it thoroughly".
"Dastangoi is the art of storytelling".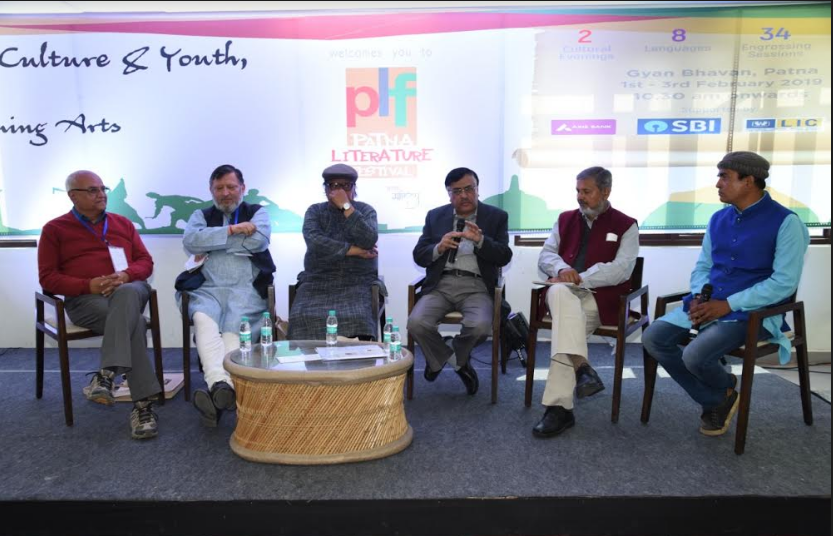 HIGHLIGHTS OF DAY 3 / LAST DAY –  (3RD FEBRUARY 2019)
The third day witnessed the launch of three books, "Patna Ek Khoya Hua Shahar by Arun Singh" and "Thapak Thapkat Dil, and Main Jab Tak Bahar Aai", both collection of poetry by Gagan Gill.
The day started with "Har Shahar Kuch Kahta Hai" session. Participants in the discussion voiced their opinion about the city of their origin and their emotional connect with the city. After the literary discussion about cities and the history of Patna by Arun Singh, the discussed shifted to climate in the next session.
Tripurari Sharan, Ratneshwar Singh, Subhash Sharma, and Nirdesh Nidhi discussed the impact of climate change. Subhash Sharma said, "Approximately 42 lack people die due to pollution and the problems caused by it, out of that 20 lack people die in India only". During the session, Nirdesh Nidhi gave stress on the impact of rivers and said, "Rivers have their own culture and life and it is not just government's duty to clean rivers, but it is also our job."
One path-breaking session during the third day was, "Kanoon, Samaaj Aur Azadi". Rabina who came from Chhattisgarh to participate in the festival said, "Due to the lack of adequate development in the boundaries of our knowledge, the transgender community is ignored. Whenever India witnessed intellectual development, the transgender community got their due importance." Reshma Sharma, a notable personality working for the rights and equality of Transgender community said, "We need to include transgender discussion in our literature too."
In addition to these session, last day of the Patna Literature Festival included sessions on poetry in various languages like Maghii, Bajjika, and Angika. A whole session was dedicated to legendary Ghalib.
The warm response from the visitors and literature lovers made Patna Literature Festival a big hit. The expectations are increasing from this festival with every other edition. Such events and festivals can be the catalyst for the improvement in the dilapidated state of art, culture, and literature in the state of Bihar.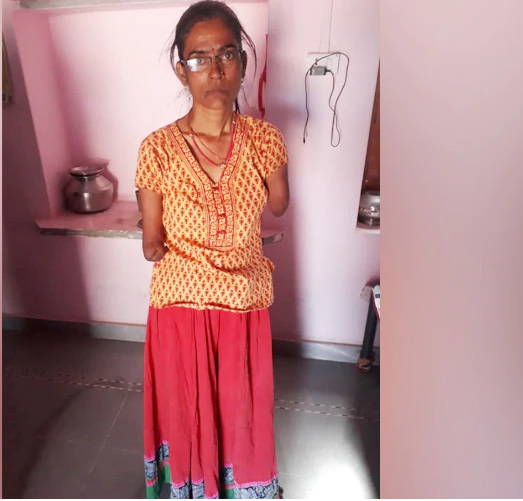 I'm an avid reader, a foodie, and a movie buff; who is passionate about the positivity around us. I love to dream and convert those dreams into words. At one moment I'm inside a shell and the very next moment I'm the ferocious one. Dynamism is my forte.
Apart from being a dreamer, I'm also a woman with a beating heart and a curious mind questioning traditional social norms. I'm a rebel at one moment and just opposite at the very next moment. My fuel is the smile of my son, the happiness of my family, and lots of coffee.
I'm also not ashamed of spending money on buying books and to fill my (always empty) stomach.