We all have been hearing about Patna Metro Project, now finally some positive news is making rounds around the corner. In the last week of January 2019, this project will be inaugurated by PM, Narendra Modi, and CM, Nitish Kumar. Post-inauguration the work will commence immediately.
Talking to media during the announcement, Urban Development and Housing department minister Suresh Sharma said – "Centre has approved the proposal. Earlier they had few issues with the state which are over and now we have a green signal for the project, the approval is in its last stage and by the end of this month we will be inaugurating the project."
Detailed Project Report of Patna Metro is already with Center under last-minute formalities. The project costs over Rs. 17,800 crores out of which the Center and State have to bear 20% expenses each, and the rest will be loaned.
Patna metro will be owned and operated by state-run Patna Metro Rail Corporation and will be constructed on Public Private Partnership. For now, the plan is to introduce two routes in Patna Metro.
On 14 September 2011, the Planning Commission of India gave approval for the Patna Metro.
The metro rail is expected to run by 2024, the number of station planned till now is 55 and the routes will be as follows: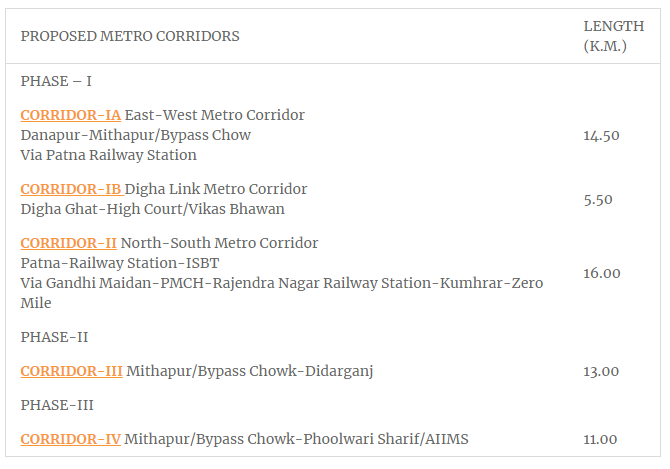 Patna is excited and ready to welcome the gift of Metro Service to the city. Patna Page 3 will keep its visitors updated with the development.
I'm an avid reader, a foodie, and a movie buff; who is passionate about the positivity around us. I love to dream and convert those dreams into words. At one moment I'm inside a shell and the very next moment I'm the ferocious one. Dynamism is my forte.
Apart from being a dreamer, I'm also a woman with a beating heart and a curious mind questioning traditional social norms. I'm a rebel at one moment and just opposite at the very next moment. My fuel is the smile of my son, the happiness of my family, and lots of coffee.
I'm also not ashamed of spending money on buying books and to fill my (always empty) stomach.