Yes, you read it right. Sunny Leone topped the Bihar Junior Engineer Examination. It's Weird? But True.
The Examination for recruitment of junior engineer posts in the Bihar Public Health Engineering Department (PHED) was conducted, whose merit list was recently released. In such a scenario, the candidate who has secured first place is "SUNNY LEONE".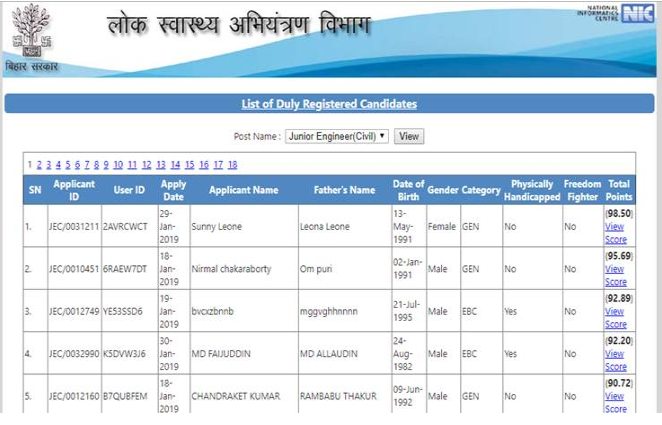 According to the list on the Official website, Sunny Leone has topped the Bihar Public Health Engineering Department with 98.50 percent. The applicant has obtained 73.50 points based on her academic record and full marks of 25 points based on her experience.
A total of 17,911 candidates had registered for the exam and marks of each one of them have been displayed online. A total of 214 vacancies are to be filled by the recruitment exam. For the next round, 642 candidates (thrice the number of vacancies) will be shortlisted based on their score and 'Sunny Leone' is one of the contenders for the government exam.
Joint Secretary, PHED, Ashok Kumar, said, "This is mischief done by someone. The list has been uploaded as it is based on the data received by the candidates. Whoever filled their name, fathers' name and other details in the application form, the list shows the same as is and no data has been entered by the department."
In fact, apart from Sunny Leone, the candidate name 'bvcxzbnnb' has also made it to the third rank of the list. The applicant has obtained 92.89 percent marks.
Moreover, in a notice issued by PHED Bihar, it is said that the list is a draft merit list and candidates can raise objections till February 24.
Candidates can log in to phed.bih.nic.in. To raise objections and after that, the applicants will be shortlisted for the exam.
A writer who is willing to produce a work of art, To note, To pin down, To build up, To make something, To make a great flower out of life even if it's a cactus.