We all are aware of TED talks, TED is a nonpartisan nonprofit devoted to spreading ideas, usually in the form of short, powerful talks. Since 1990 TED has been organizing conferences and posts talks online for free distribution under the slogan "ideas worth spreading".
TEDx is a bit different, it is been organized by independent organizers locally to create a TED-like event in their own community and inspire and generate ideas of success.
"TEDx where x is a variable and stands for – Independently Organised TED Event"
Lately, we have been experiencing a great growth in Patnities mentality and we are becoming more open and accepting to such events.
This time this TEDx is being organized in Patna, Sunday, 29th July'18 at Vidyapati Bhawan, Vidyapati Marg, Lodipur, Patna, Bihar 800001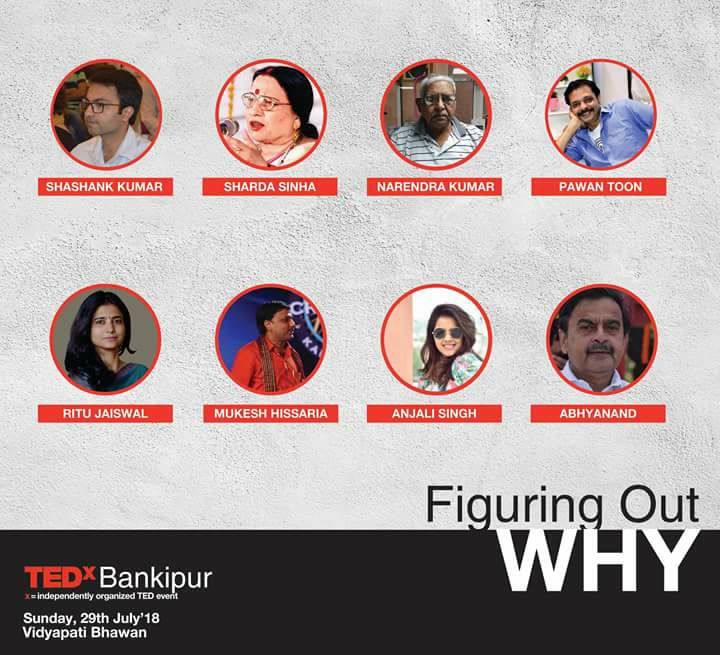 Some of the renowned personalities will be speaking and embarking their presence this time, they are:-
Padma Bhushan Smt. Sharda Sinha–Bihar Kokila, internationally acclaimed folk singer of Bihar.
Abhayanand– IPS officer, social activist, and teacher.
Shashank Kumar–Founder and CEO of DeHaat, featured in Forbes 30 under 30.
Pawan Toon–Cartoonist, we all love his work.
Anjali Singh–Beloved RJ of Patna, famous for her show Patna Junction on Radio Mirchi, loved for her Foodie Kismat.
Ritu Jaiswal –Social Activist.
Mukesh Hissaria– Social Activist.
Narendra Kumar-  Retd Wing Commander and Businessman.
You can join this talk and be a part of their journey and get inspired by the real heroes who actually worked a lot and made a great deal out of their lives, they are going to inspire you and help you "Figure out why"?
For any details contact Work Studio Coworking A/3 PC Colony Kankarbagh Patna 800020
Email :[email protected] Phone no : 8426901494
I'm an avid reader, a foodie, and a movie buff; who is passionate about the positivity around us. I love to dream and convert those dreams into words. At one moment I'm inside a shell and the very next moment I'm the ferocious one. Dynamism is my forte.
Apart from being a dreamer, I'm also a woman with a beating heart and a curious mind questioning traditional social norms. I'm a rebel at one moment and just opposite at the very next moment. My fuel is the smile of my son, the happiness of my family, and lots of coffee.
I'm also not ashamed of spending money on buying books and to fill my (always empty) stomach.