102 year's old, Harding Park (also known as Shaheed Veer Kunwar Singh Park) is all set to witness three day Vijayotsav celebrations beginning April 23. This is to mark 160th anniversary of Sepoy Mutiny that was led by Veer Kunwar Singh and his victory against the British Army.
Today, an imposing equestrian statue of Kunwar Singh, relocated to the 102 year old Harding Park, has been inaugurated by chief minister (CM) Nitish Kumar at a function.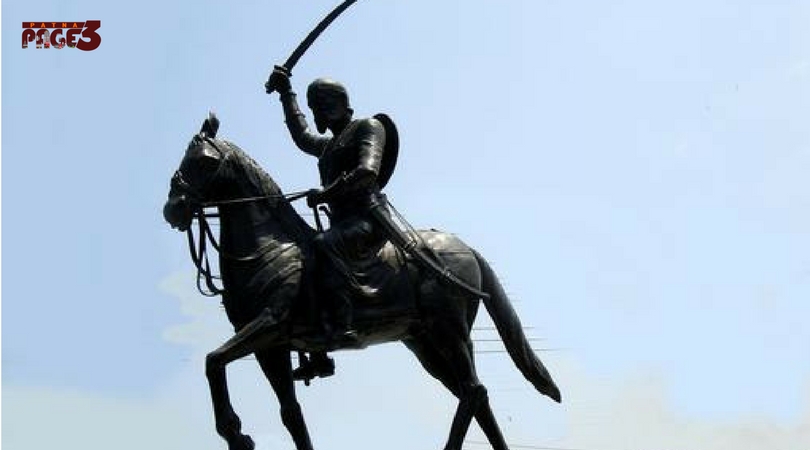 The Preparations
Patna District Magistrate Kumar Ravi, SSP Manu Maharaaj and other officials reviewed the ongoing Vijayotsav preparations at the Harding Park which wore a festive look on Sunday evening.
The Kunwar Singh statue has been refurbished and installed on a multi-tier pedestal in front of the main entrance of the sprawling garden.
The life of Kunwar Singh has been carved on the sandstone panels, surrounding the pedestal's four walls. The old garden has also been repainted and a water fountain has been installed.
Another facility to be inaugurated by CM Nitish Kumar is 30 minutes laser show in the premises of Harding Park itself. This laser show will be depicting the life of Veer Kunwar Singh. This has been developed by a Bengaluru based firm, and the show will be organized on all the three days.
Besides this a series of cultural events will be performed at S K Memorial hall to mark Vijayotsav celebrations. Artists performing are Malini Awasthi, Nitu Kumari Nutan and Usha kumar among others. They will be entertaining the audience on day 1.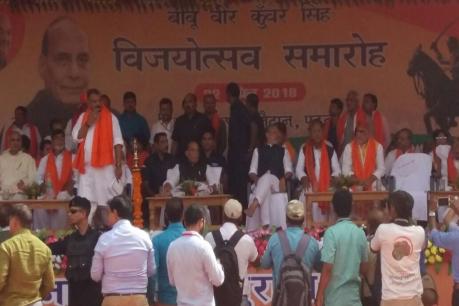 Competitions and Prizes
The Bhojpur district administration will organize debate, speech and quiz competitions for government and private school students.
A sum of Rs. 5000 each will be given to the winners of speech, debate, and quiz contests at the district level.
And runner ups will be given a sum of Rs. 3000, Rs. 2000 to second runner up and Rs. 1000 as consolation prize.
The topic of debate, speech, and quiz contest will be "Role of Babu Veer Kunwar Singh in 1857 revolt".
The DM also issued directives to hold street plays, and put hoardings, posters and banners at prominent places in order to highlight the contribution and life of Veer Kunwar Singh in Sepoy Mutiny (1857).
A "Shobha Yatra" will also proceed from Shivpur Ghat (Jagdispur) to mark Veer Kunwar Singh Vijayotsava.
Apart from this a state level "Khel Mahotsav" is also inaugurated by CM Nitish Kumar today at Jagdishpur, in which archery, javeline throw, wrestling, horse ride and kabaddi competitions are going to happen. Attractive cash prize will be given to the winners in these sporting events.
The winners in Kabaddi competition will get a cash prize of Rs. 51000 and first and second runner up will get Rs. 31000 and Rs. 25000.
In Archery and wrestling competitions also winner will get cash prize of Rs. 21000 while the first and second runner ups will get Rs. 15000 and Rs. 7500 respectively.
Veer Kunwar Singh
Veer Kunwar Singh was a notable leader during the rebellion of 1857, born in 18th century. He belonged to royal Ujjainiya (Panwar) Rajput house of Jagdispur, currently a part of Bhojpur District, Bihar India. At the age of 80, he led a select band of armed soldiers against the troops under the command of the British East India Company. He was the chief organizer of the fight against the British in Bihar. The tales of his bravery is unforgettable. The famous incident of sacrificing his own arms in the river Ganges after he was shot by British bullets, still gives goosebumps.
This initiative to celebrate such a notable leader will not only make our youth aware of this personality, but also gives us a reason to remember his sacrifice for our country.
I'm an avid reader, a foodie, and a movie buff; who is passionate about the positivity around us. I love to dream and convert those dreams into words. At one moment I'm inside a shell and the very next moment I'm the ferocious one. Dynamism is my forte.
Apart from being a dreamer, I'm also a woman with a beating heart and a curious mind questioning traditional social norms. I'm a rebel at one moment and just opposite at the very next moment. My fuel is the smile of my son, the happiness of my family, and lots of coffee.
I'm also not ashamed of spending money on buying books and to fill my (always empty) stomach.